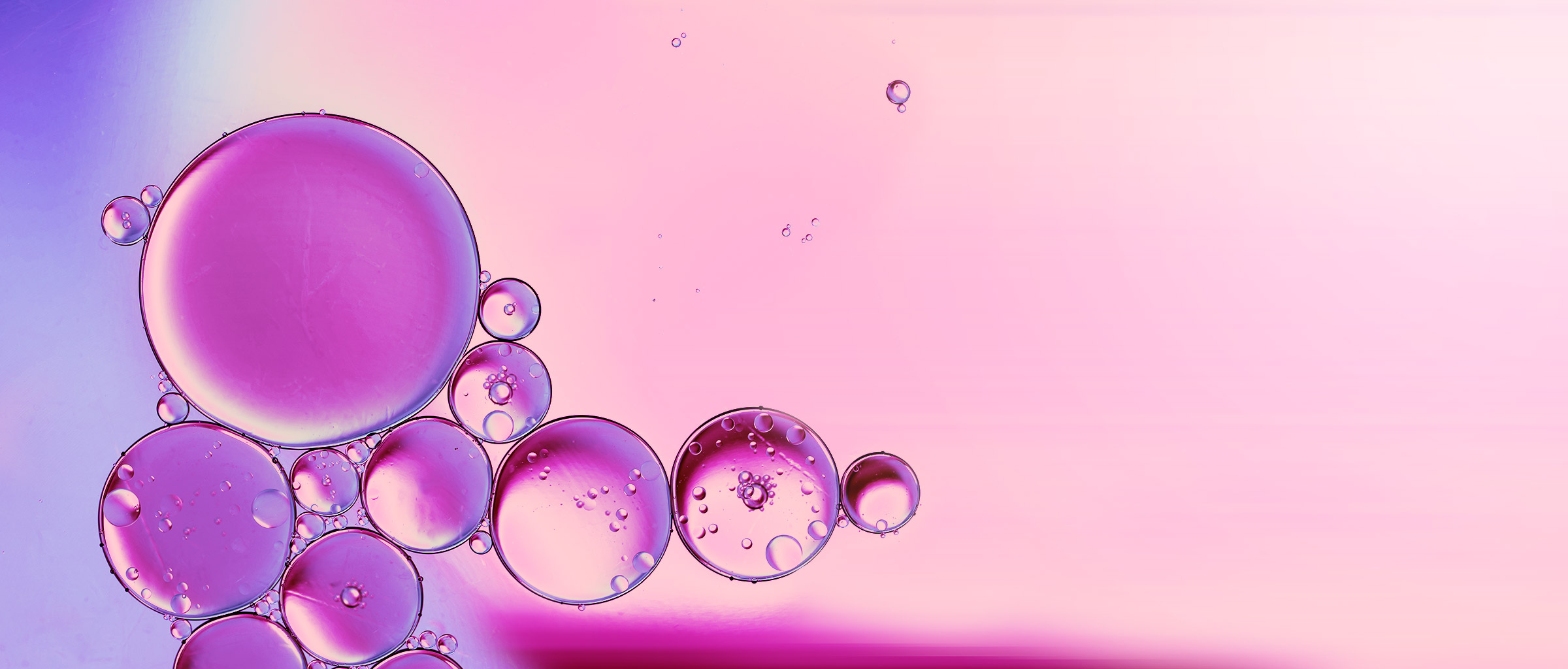 Gasnorm ®
Plus
Food supplement with Microencapsulated essential oils and plant extracts of Caraway, Chamomile and Agrimony
The essential oil of Anise, Caraway, Cinnamon and Fennel in association with plant extracts of Caraway, Chamomile and Agrimony can contribute to regulate gastrointestinal motility and the elimination of gas.
Packaging 36 capsules of 600 mg - Net weight: 21,6 g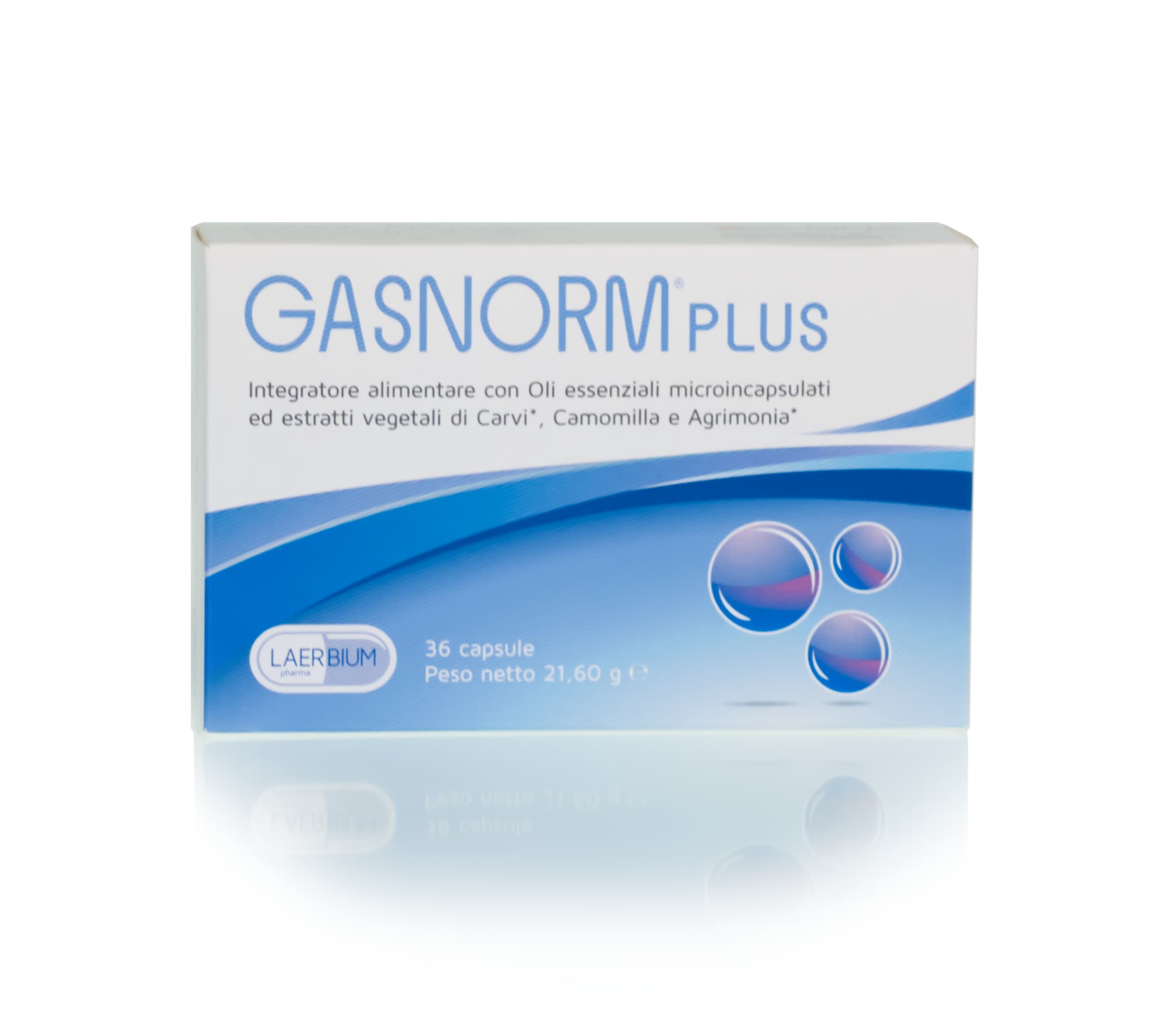 Caraway* (Carum carvi L.) fruits d.e. tit. 2,5-3% polyphenols, mixture of microencapsulated essential oils [Fennel fruits (Foeniculum vulgare Mill.), Cinnamom bark (Cinnamomum verum J. Presl), Caraway fruits (Carum carvi L.) Anise fruits (Illicium verum Hook.)] Chamomile (Matricaria chamomilla L.) heads d.e. 1,2% apigenin; Agrimony* (Agrimonia eupatoria L.) summits d.e. 1:4; capsule (gelatin); anticaking agents: magnesium salts of fatty acids.
* botanical species is certified by the DNA barcoding analysis.
It is raccomanded to take one capsule after main meals.
Due to the content in essential oils it is not recommended for children under 12 years of age or pregnant women. Moreover, it is not recommended in case of gastric or duodenal ulcers.
Food supplements should not be considered a substitute for a balanced diet and a healthy lifestyle. Do not exceed the recommended daily dosage. Keep out of the reach of children 3 years of age or under. Store in a cool, dry place, away from light and direct heat sources. The expiration date refers to the product in a intact package, correctly stored.
GLUTEN FREE AND NATURALLY LACTOSE FREE.
Characteristic Elements
Average content – daily dose (2 cps)
Caraway (Carum carvi L.) fruits d.e.
– tit. 2,5-3% polyphenol
380 mg
9,50 mg
Chamomile (Matricaria chamomilla L.)
heads dry extract
– tit. 1,2% apigenin
200 mg
2,40 mg
Agrimony (Agrimonia eupatoria L.)
summits dry extract
200 mg
mixture of microincapsuled essential oils:
– Anise (llicium verum Hook.) e.o.
– Cinnamom (Cinnamomum verum J.) e.o.
– Caraway (Carum carvi L.) e.o.
– Fennel (Foeniculum vulgare Mill.) e.o.
200 mg
22,50 mg
45,00 mg
45,00 mg
87,50 mg
Italian Food Supplements Register (Ministero della Salute) - Code: 10668
Codice PARAF (base10): 910835394
Prezzo suggerito: 18,00
Gastrointestinal system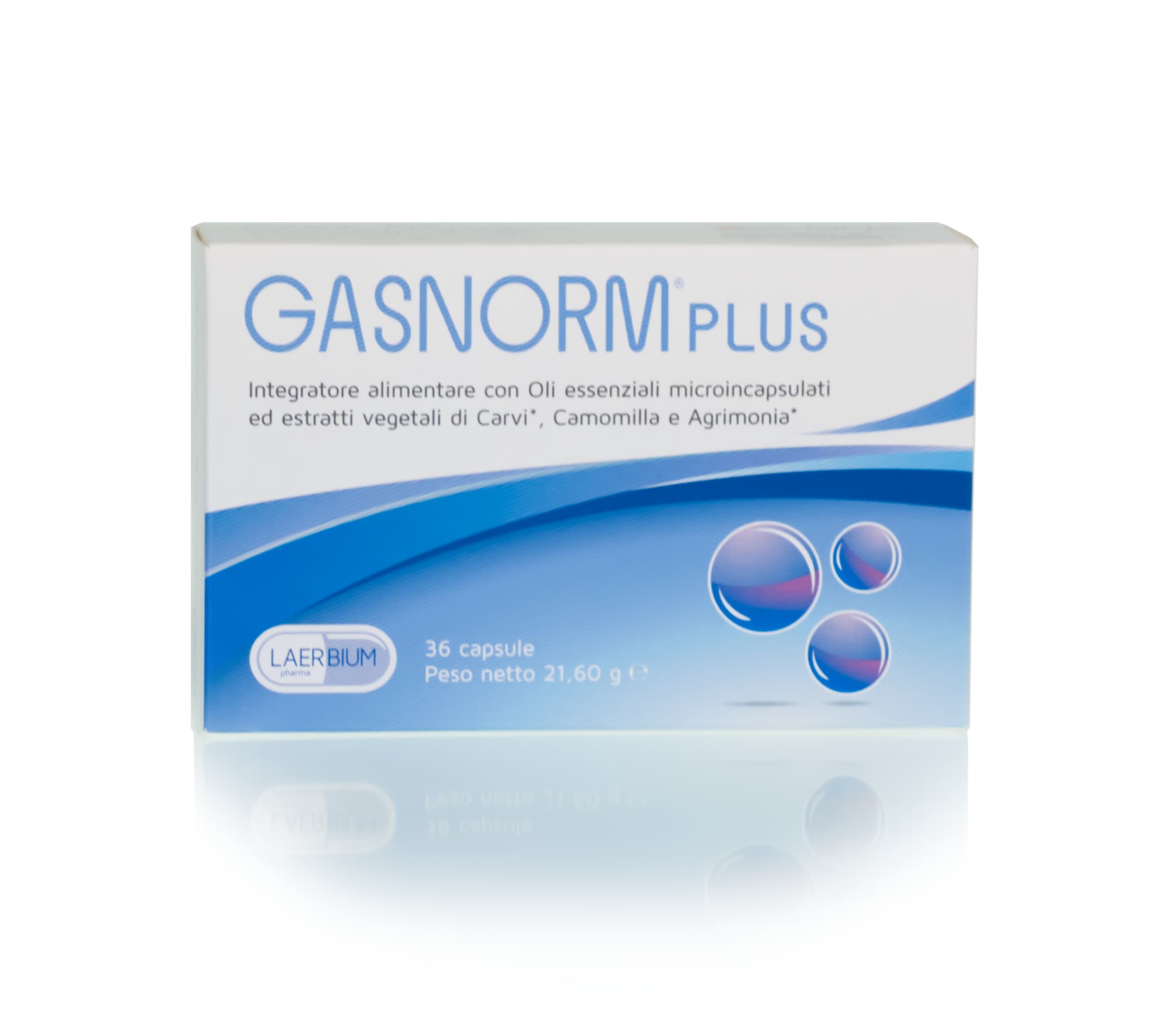 Richiedi informazioni su Gasnorm Plus